Why Cliviger Counselling?
Meet Your Counsellor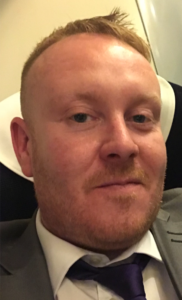 "Welcome to Cliviger Counselling, a professional counselling service based in Cliviger near Burnley, run by myself, Shaun Reade. I am a fully qualified and highly experienced counsellor, and a registered member of the BACP, the professional body that regulates counsellors and psychotherapists.
"Having worked with many hundreds of clients from all backgrounds, I can help with a whole range of issues such as depression, anxiety, addiction, bereavement, relationship problems, to name just a few. As well as seeing clients privately, I also undertake work from a variety of private health insurers who demand high standards and real results from their counsellors.
"I provide a confidential, compassionate and empathic environment as well as real help and support to my clients enabling them to move forward and feel better. My practice could be described as 'integrative' as it is grounded in a range of theoretical approaches to counselling. My training was in the Person Centred approach, but through continuing professional development I can also call upon other theories such as Transactional Analysis, Psychodynamic Theory and more humanistic approaches when appropriate to help you to move forward, gain insight into yourself and into whatever it was that brought you to counselling.
I would recommend counselling to anyone – it's a great way to improve your mental health and wellbeing, whatever might be troubling you. There really is nothing to lose and so much to gain and I will be delighted to hear from you. Don't hesitate to get in touch if you have any questions or would like to make an appointment."
Shaun Reade BA(Hons), Dip. Couns., MBACP
Testimonials
Shaun is a really lovely guy and a great counsellor. I was worried about going at first, but it has proved to be the best thing I ever did. I arrived in a bit of a heap but after working with Shaun I am genuinely happy and have made the changes I needed to. Thank you Shaun – you're the best!
Ms. W
I went to Shaun when I was at a particularly bad place in my life, it felt like I had lost the strength and the ability to cope with even basic problems.

Within a short time of meeting Shaun, I felt settled, welcome and secure enough to talk about my situation and feelings.

It would be wrong to say that Shaun changed my life, however, he helped me to regain the strength and confidence to make the changes myself and even though life isn't always perfect, I now feel that I can cope with the issues that are thrown at me.

Thank you Shaun
Mr. S
I was so caught up my own thoughts and feelings that at times I felt like a prisoner in my own mind but I didn't feel I could talk to friends and family about it.

Shaun listened to me without criticising or judging and I felt I could be completely open and then it all seemed calm again.
Ms. C